WhateverMap
WhatEverMap is an application for iPhone device. It's development is in progress at the Department of Geoinformation Technologies of Faculty of Forestery and Wood Technology, Mendel University of Agriculture and Forestery in Brno. This application offers new functionality for iPhone users. There is no similar application in iPhone OS 3.0 even AppStore do not offer such functionality. The application consumes OGC layers and shows them to the users. The users doesn't need to be limited by pre-prepared sources; they can receive it promptly throught the internet. It allows to use any domain-specific map sources anywhere in a field. In the future this application should collaborate with comunite map portal MapShake.cz. It should provide knowledge of available geospatial sources.


The Mendel University of Agriculture and Forestery in Brno is signed to The iPhone Developer University Program of the Apple Company. It allows us to create a development team with up to 200 students. So you may contact us and join our team! Thanks to this program we can use additional sources from Apple Company.

The iPhone Developer University Program includes:
iPhone SDK
iPhone Dev Center Resources
Testing on iPhone and iPod touch
Internal or App Store distribution
Apple Developer Forums Beta

Development of this application is supported by the Internal Grant Agency.

To download WhateverMap from AppStore use this link. For sending questions or coments use e-mail: xkaminek [at] mendelu.cz.


There is an article published in GeoBusiness Magazine 02/2009.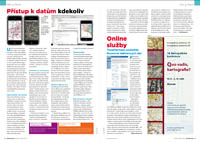 Here you can see a few demonstrations of the WhatEverMap. It is an early version of this application:
Cenia - ortofoto
Cadastral map
Cenia - admin - water + cities + roads
Cenia - admin - all